2023 Spring Lecture Series: Quilian Riano
Spatial Processes for Expanding Bodies
---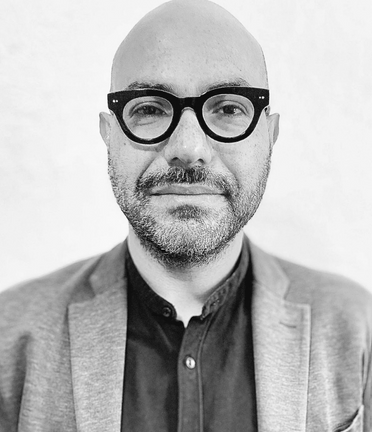 Date
February 15, 2023
Time
6:00 p.m.
Location
Cascieri Hall
For More Info
Cost
FREE
Categories
Events Lecture
Join us in person in Cascieri Hall
or on Zoom
Meeting ID: 956 5992 1752
Passcode: 207236
This lecture will review work that looks at how communal games, defined as processes with loose rules for others to negotiate, interpret, and execute as they see fit, can supplement other design tools to broaden the socio-spatial imagination and conversation.
Join us in person in Cascieri Hall or on Zoom.
Quilian Riano is the Interim Dean of Pratt Institute's School of Architecture, working across the school's architecture, landscape, urban design, planning, and management programs. Quilian also serves as the Vice President for Architecture of the Architectural League of New York.
Quilian founded and leads DSGN AGNC, a design studio exploring new forms of political design, processes, and engagements through architecture, urbanism, landscapes, and art. Quilian/DSGN AGNC's design work has been featured at the Venice Biennale, Queens Museum of Art, Harvard University, The Storefront for Art and Architecture, The New Museum, the Center for Architecture, and the Architectural League of New York, among others. Quilian has won awards from the Vilcek Foundation, the American Society of Landscape Architects, Harvard University, The Boston Society of Architects, and the University of Florida. Quilian has received fellowships from the Design Trust for Public Space, Institute for Public Architecture, and the J. Max Bond Center for the Just City at CUNY, among others.
Over the last few decades, Quilian has taught studios in architecture, urban design, art, and transdisciplinary design at Harvard University, Columbia University, Carleton University, Parsons The New School of Design, The Pratt Institute, Syracuse University, Wentworth Institute of Technology, the City College of New York, and Kent State University. Quilian is an initiator and core member of Dark Matter University, a democratic network committed to creating new forms of knowledge and knowledge production, institutions, collectivity, practice, design, and community culture. Quilian holds a Master of Architecture from Harvard University and a Bachelor of Design in Architecture (Summa Cum Laude) from the University of Florida.
Date
February 15, 2023
Time
6:00 p.m.
Location
Cascieri Hall
For More Info
Cost
FREE
Categories
Events Lecture
Join us in person in Cascieri Hall
or on Zoom
Meeting ID: 956 5992 1752
Passcode: 207236