The Experience Maker
Alumni Profile: Bernie Goba*, B.Arch'69, Hon'07, is all in when it comes to the BAC
---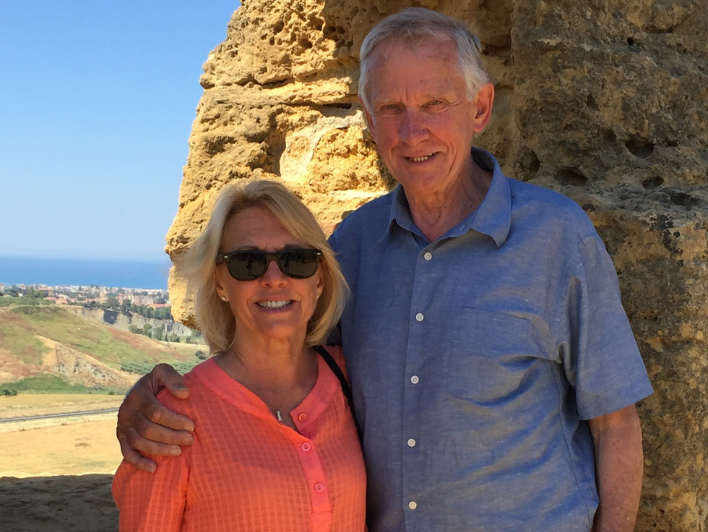 Date Posted
September 14, 2022
For More Info
Categories
NewsCampus and Community
Source
Danna Lorch
"I just went where I was needed," Bernie Goba* says dismissively, thumbing through an archival stack of Boston Architectural College publications from the 1980's and 90's on a recent visit to the College. Bernie is a force— one of the most longstanding, impactful, and recognizable alumni the BAC community has known. But his genuine humility is what is most admirable.
He goes on to point out black and white photos of a younger version of himself in his signature bow tie, grinning with his arms flung over the shoulders of everyone from Michael Dukakis to the College's legendary Dean Arcangelo Cascieri.
In honor of the former, Bernie was pivotal in establishing the annual Cascieri Lecture, a series that has brought some of the greatest thinkers and doers in design and architecture to the BAC and just celebrated its 30th year.
The BAC has been part of Bernie's identity for so long that he can't recall a time in his adult life when architecture wasn't all he thought about. He says, "I don't know where I found out about becoming an architect. I came from a blue-collar family in Norwood, Mass that never discussed architecture, yet from the 9th grade onwards I knew that's what I wanted to do."
Bernie logged two years at a technical institute, but after crossing core requirements off his to-do list, realized that he wouldn't be satisfied with any degree besides a Bachelor of Architecture. But finding the money to pay for Architecture school was another thing. "To make it work financially, I had to go to night school at the BAC," he explains.
"It took me 10 years from the time I decided to go to architecture school to the time I graduated from the BAC." Before transferring to the College, he met with the legendary Dean Cascieri whom he remembers reviewing his transcripts and cringing, "No, no, no, Goba. If you want to come here, you'll have to start all over."
Nowadays, transfer students don't have to begin from scratch, but back then Bernie listened to Cascieri and in fact, "started over" at the BAC in 1963. "I could have done it all in one sweep too," he quips, "If I weren't called up for active duty in the U.S. Army." After a stint in a medical unit stationed in Texas, Bernie returned to the BAC and didn't stop until he held a Bachelor of Architecture.
The College's building, though the same address, was grittier and louder in those days. "It looked like an old industrial carriage house with a freight elevator that would take you up and down. It was an open plan on the ground floor, the classes would meet in different corners, and just overhearing all of them was an experience," he remembers.
Also, Dean Cascieri, a gifted sculptor, would often bring his mischievous pet goat along to the College. Cascieri, who was regarded as a discerning, charismatic leader, worked right alongside students. "He never said much, but his drawings were very specific and detailed, and he liked to teach," Bernie recalls. "He liked to give each student a leaf and ask them to study it. Then he'd take the leaf away and ask them to draw from memory."
Cultivating the connection between hand, mind, and eye onto paper is a skill that helped Bernie complete his senior thesis, a Boston housing development incorporating Montessori learning philosophy. The experience carried over to a real-world project creating the Kingswood Montessori School in Foxborough, Mass, the school his own children attended and he's proud has recently celebrated its 50th year.
Following graduation, Bernie co-founded a firm with three friends he'd met at the BAC: "We were young and naïve," he laughs. But they were confident too and landed a contract designing a hotel at Logan Airport right out of the gate. Next came Lowell General Hospital, and then a neighborhood in the utopian mountain community of Quechee, Vermont. Both projects still stand today, though Bernie went out on his own and founded B. Goba & Associates, P.C. in 1987 in Medford, Mass, and subsequently became known as a true generalist.
As his own boss, Bernie has been able to lean in hard when it came to supporting the BAC. Over the years, he's hired dozens of BAC students and alumni and fast-tracked their work experience. "When I was first starting out while studying, I was only asked to make coffee and empty wastebaskets and my employers wouldn't teach me anything," he says. "I always made a commitment to myself that if I hired someone from the BAC, I was going to expose them to architecture quickly so that they could learn, practice, and log experience as fast as possible."
Over the years, he's occupied nearly every volunteer role at the College. These include the President of the Alumni Association, Chairman of the Board of Directors, Chairman of the Cascieri Lectureship Committee, and a devoted leader of the prestigious Ames Scholarship Committee. His service was recognized with multiple awards including an official honorary degree of "Doctor of Fine Arts Honoris Causa" from the BAC, and the 2011 Selfless Labor Award. The accolade truly describes Bernie's philosophy for giving big heartedly of his time to make positive experiences possible for generation after generation of students.
*We are heartbroken to share that Bernie passed away on August 29, 2022, at his home in Walpole, Massachusetts, surrounded by family. He is lovingly remembered by his beloved wife Janyce Nareski Goba and his children Janet Goba of Springfield, Geoffrey Goba of Kennebunk, Maine, David Goba of Needham, Oliver Goba and his wife, Kathleen, of North Kingstown, Rhode Island, and Marissa Cuomo and her husband, Nicholas, of Brooklyn, New York. Bernie was the cherished grandfather of Owen, Daniel, and Caroline.
In lieu of flowers, memorial gifts may be made to the newly established Bernard J. Goba Scholarship at the Boston Architectural College.
Date Posted
September 14, 2022
For More Info
Categories
NewsCampus and Community
Source
Danna Lorch