Alumni Profile: Erin Flaherty
---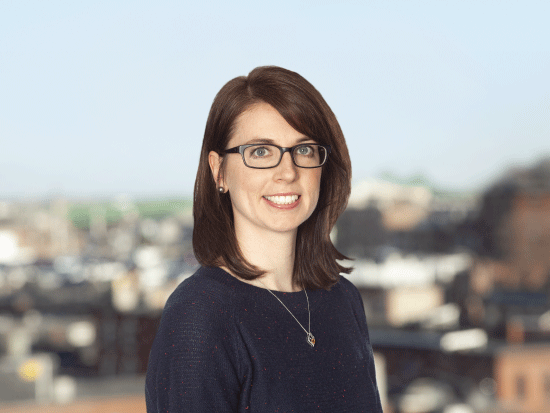 Date Posted
June 14, 2021
For More Info
Categories
News
Source
Ashley Abon
Erin Flaherty graduated from the BAC with her master's in architecture in 2014. Read more about her journey to success, from growing up in Leavenworth, Kansas, to receiving a full ride to play basketball in college, and now, being promoted to Associate at Finegold Alexander Architects.
What first sparked your interest in architecture and design?
I grew up in Leavenworth, Kansas, which is a suburb of Kansas City. Part of my high school curriculum required students to take an arts credit each semester, and freshman year, the two options that worked with my schedule were theater and intro to drafting. There was no way I was going anywhere near a stage, so I opted for drafting. To my surprise, I immediately loved it. I took the consecutive courses and even joined the drafting club, which traveled and competed. I knew I wanted to become an architect.
What brought you to the BAC?
In high school I was offered a full ride to play basketball in college, and knew I had to pursue that opportunity. I also knew I wanted to study architecture but with a demanding college athlete's schedule, I wasn't going to be able to do both simultaneously. I played basketball for four years and earned a Sports Science degree. While in college, I researched architecture schools to pursue next.
The BAC, on top of its excellent reputation, was the only school that allowed me to work full-time and support myself while studying architecture.
What was your favorite memory about the BAC?
I have so many great memories! I most cherish my friends who I am still very close with today. Long studio was the best semester of school – my group traveled to Cuba. Luis Montalvo was the first to show me the beauty and meaning of "work hard, play hard." I still carry his lessons with me in practice. Other teachers who made an impact were Morris Tyler and Chip Piatti. The BAC's program was rigorous but instructors like them were the reason you found it within yourself to keep pushing through.
You were recently promoted to Associate at Finegold Alexander Architects. Tell us a little about that journey and how you got to where you are today.
My first job was with a MEP firm as their receptionist. At the time I joined, they were transitioning to Revit, which I had learned in school, so they moved me to a station and I started picking up redlines for both Revit and CAD. Learning to read MEP drawings and to be sensitive to their space needs gave me an edge when I jumped to an architecture firm. The firm I worked with prior to Finegold Alexander was a little 'a' firm. There were four of us and I gained so much knowledge very quickly. I only spent two years with them and by the end of my time there, I was doing CA on my own on-site. Then-principal Fabrizio Caruso put so much trust into me and built up my confidence.
From there, I was hired at Finegold Alexander, and the firm has meant everything to my career. They've put me in positions that challenge me, and they've allowed room for me to grow. The leadership and entire team is dedicated to helping each of us recognize where our passions lie within architecture, help guide us in the right direction, ensure we meet the right people, or place us on the right projects to pursue those passions.
You have a lot of experience in K-12 projects. What is a project that you're most proud of?
Schools have become my favorite project type because of the impact they have on students and the communities that rally behind them. The design of a school has a direct impact on the way we learn. The key to a good design is to allow for flexibility (classroom layouts and group sizes) and adaptability in the future (technology as it continues to progress and curriculum changes), while also striking a balance between transparency (visual connections to others and the outdoors) and security.
We recently completed Eliot Innovation School located on the harbor next to the Charlestown bridge in Boston. It opened in fall of 2019 and was my first experience as Project Architect. I helped lead the project from design through construction during a four-year process. The ribbon cutting ceremony was so special. The whole North End community came out to support the students, it was a party! Seeing their excitement as they explored the school meant everything to me.
What inspires you?
As cliché as it is, everything. I think as architects we find inspiration anywhere from the smallest of details that we observe walking down the street to more abstract concepts like movement. We're generally more aware of our surroundings. I think if I had to pick one word though, it would be connections. We have powerful opportunities to connect with the built form, to the environment around us, the nature surrounding us and to one another.
What advice would you give to future architects and designers?
There is a place for you! You don't have to be the best at math or the best at freehand drawing. If you love what you're doing, don't feel discouraged. This industry is expansive!
Date Posted
June 14, 2021
For More Info
Categories
News
Source
Ashley Abon