BAC Faculty Profile: Isra Banks
---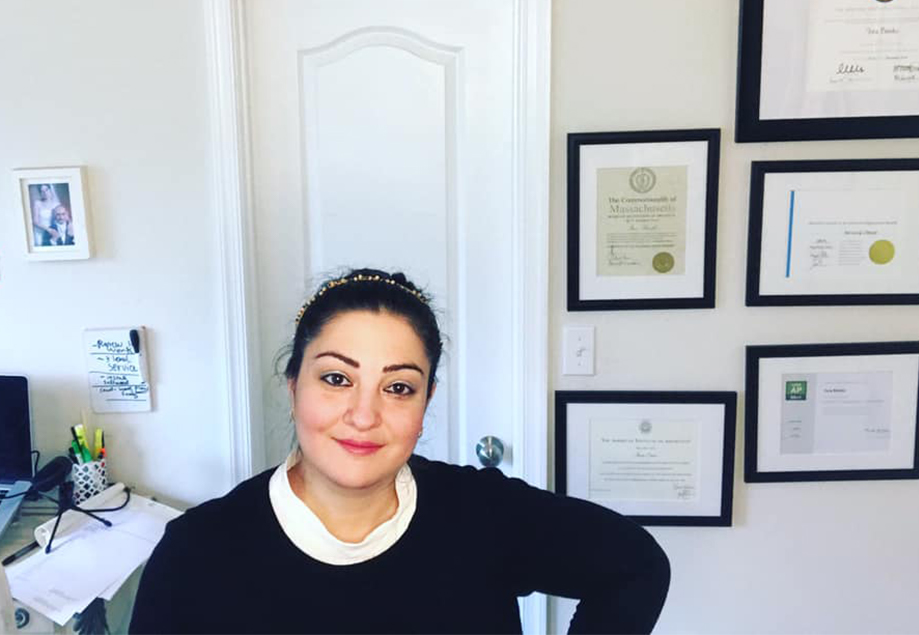 Date Posted
June 09, 2020
For More Info
Categories
News
Source
Ashley Abon
Tell me a little about yourself. Where are you from?
I was born and grown for the first decade of my life at the campus of the University of Nottingham, England, in the beautiful English countryside, woods, and lots of farmed and wild animals to see around.
In the second decade of my life, I moved to Iraq with my parents. Before moving to Baghdad, we lived at the university campus of Babylon, close to the ruins of Babylon and amid corn mazes and lovely woods of eucalyptus trees. I got fond of nature and had tons of memorable experiences there.
In my early twenties, my family and I made another move to the charming city of Portsmouth, New Hampshire. Where it later became home for the family. Years later, I married my now-husband in Abu Dhabi, UAE. I worked and lived intermittently in Abu Dhabi for three years. My husband and I are now settled in Peabody, MA, with no intention to move more than five miles away.
What brought you to the BAC?
I came to the BAC as a student, I was already a practicing architect in Abu Dhabi when I enrolled in the BAC's M.Arch program. At that time, I was expecting my daughter Riena. The BAC gleamed to me as it offered flexibility, so I could juggle school, practice, and motherhood. It was far from easy, but eventually, it became achievable. Although my parents always encouraged me to teach, I continually felt that teaching is boring. Yet, after I began my thesis research, I realized that joining higher education would fulfill my curiosity and passion for research. It's been a fantastic experience so far.
Abu Dhabi Expo 2011. Our firm's project of a mixed-use development in Al-Ain city, UAE. Project's cost $57M.
What are you currently teaching, and what do you most enjoy about teaching?
Currently, I'm teaching professional practice courses, Practice Management and Construction and Evaluation Courses. I enjoy researching new teaching materials, creating fun and meaningful in-class exercises, and listening to students' fresh ideas and experiences in their workplaces.
What would you say is one of your most significant accomplishments?
My most significant career accomplishment is designing large scale projects in Dubai and Abu-Dhabi, projects that housed up to 5000 people. Getting them approved then built was enthralling! I also worked on a handful of multi-family projects in Boston. On a personal level, going through grad school, becoming licensed, and founding Trivek Architects while being a mother was the greatest and most rewarding challenge of my life.
Isra was the lead architect for this dormitory housing 5,000 people with a cost of $47M, 2014.
Thesis project -- Mixed use development in Alewife, 2015.
What are some of your passions outside of education?
Outside education, I've been learning tons about Real Estate finance, business marketing, and anything related to growing my architectural business. When I'm not working, I love visiting new places, I'm fascinated by older cities like Paris, Istanbul, Beirut, and Damascus. At the same time, I appreciate the futuristic architecture in cities like Dubai, Singapore, Kuala Lumpur. I think my fascination with the two extreme trends is reflected in my designs. Other than that, I love to bike or swim with my daughter.
Date Posted
June 09, 2020
For More Info
Categories
News
Source
Ashley Abon