BAC Launches The BAC Cloud Canopy
Introducing the latest comprehensive online platform for BAC students around the globe
---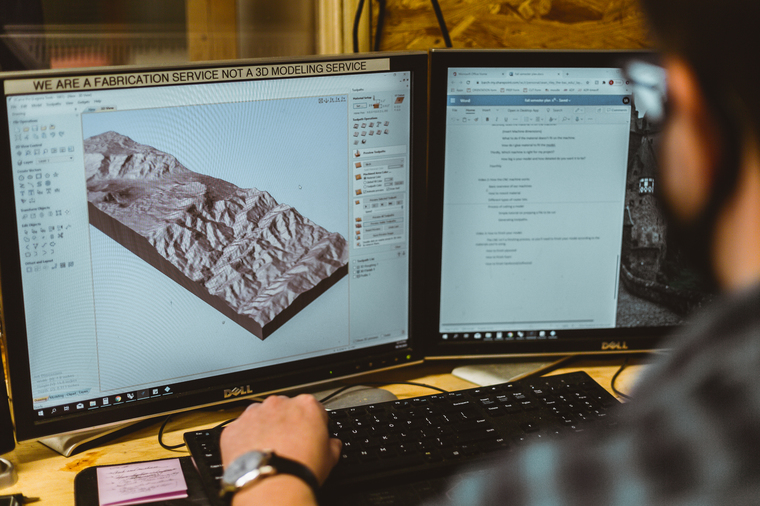 Date Posted
August 11, 2020
For More Info
Categories
NewsAnnouncementStudent Life
Source
BAC Communications
We are thrilled to announce the launch of The BAC Cloud Canopy™, a comprehensive online platform to take us closer to our vision of the BAC as a global network, a cloud canopy with virtual touch points meeting the disenfranchised, the marginalized, the inconvenienced, and unconventional students wherever they live in the world.
Distance Learning Done Right
At the BAC, we believe distance learning shouldn't mean sacrificing a quality education. As a leader in making design education accessible anywhere around the globe while continuing to strengthen our mission, the BAC is making major investments to deliver unique, high-level, high-touch experiences both on-site and online. The BAC Cloud Canopy™ is the culmination of the ingenuity and forward thinking of the College and how it delivers innovative learning experiences to our students across the globe.
Premium Tools Available at Your Fingertips
The BAC Cloud Canopy™ also includes The BAC Cloud Lab™ as an important component of our growing technological services. The BAC Cloud Lab™ provides access to all software programs necessary for success-regardless of where students choose to study. Now, all the design and productivity software originally only available in the BAC computer labs are available anywhere, anytime, worldwide.
About The BAC Cloud Lab™
The CloudLab features the full suite of BAC Lab Software. All that is needed is a computer, tablet, or smartphone and a consistent internet connection of 5MBps or better. A dedicated mouse and physical keyboard are also strongly recommended to get the most out of the CloudLab experience.
Software provided on CloudLab includes the Adobe Creative Suite, including Photoshop, InDesign, Illustrator, Acrobat and more; AutoDesk software such as AutoCAD, Revit, 3DS Max, Fusion 360, and Maya; ArcGIS Pro; Rhino, with Grasshopper, and GH Plugins; Sketchup; VRay and more.
Access to the BAC's CloudLab is provided for currently enrolled BAC students and currently teaching faculty. One of the major benefits of CloudLab, besides its global availability, is that users can store up to 30GB of files on their CloudLab session, and these files are persistent. This allows the BAC to update to the latest versions of design and productivity applications throughout the year without requiring users to move their files.
How to Access The BAC Cloud Lab™
To login to the CloudLab, currently enrolled students and currently teaching faculty should go the cloudlab.the-bac.edu using a fully featured web browser, such as Google Chrome. Your Login is your current BAC email address password. Please email help@the-bac.edu if you have difficulty logging in.

Access opens two weeks prior to the upcoming semester for registered students and is available until two weeks after the semester ends. As a bonus, students who are registered for the following semester will receive uninterrupted access between semesters.

For tutorials and instructions on accessing and using the CloudLab, including linking your Google Drive and Network folders, please visit the BAC Resources Google Drive folder BAC CloudLab.
Applications available (subject to change):
Adobe Creative Cloud:

Acrobat
After Effects
Bridge
Dreamweaver
Illustrator
InCopy
InDesign
Media Encoder
Photoshop
Premiere Pro

AutoDesk:

AutoCAD 2021
Maya 2020
Revit 2021
3DS Max 2021
Fusion 360
Slicer

MS Office:

Word
Access
Excel
PowerPoint

Rhino 6
Rhino Plugins:

Weaverbird
Daysim
Paneling Tools
Radiance
Open Studio
TT Toolbox

Sketchup 2020
Yulio for Sketchup, Rhino, and 3DS Max
V-Ray for Sketchup, Rhino, and 3DS Max
Esri ArcGIS Pro
Enscape
Lumion with LiveSync for Revit and LiveSync for Rhino
Google Chrome
Zortrax Z-Suite
Wufi
ArchiCad 23
Blender
Climate Consultant
Click here to read how the BAC Cloud Canopy™ is being used by BAC students around the world!
Date Posted
August 11, 2020
For More Info
Categories
NewsAnnouncementStudent Life
Source
BAC Communications