Licensed To Build
Faculty member and director of special projects Mark Rukamathu is on a mission to create good designers who are also good practitioners. People who not only understand how to design a great building but also see that those great buildings get built on time and on budget.
---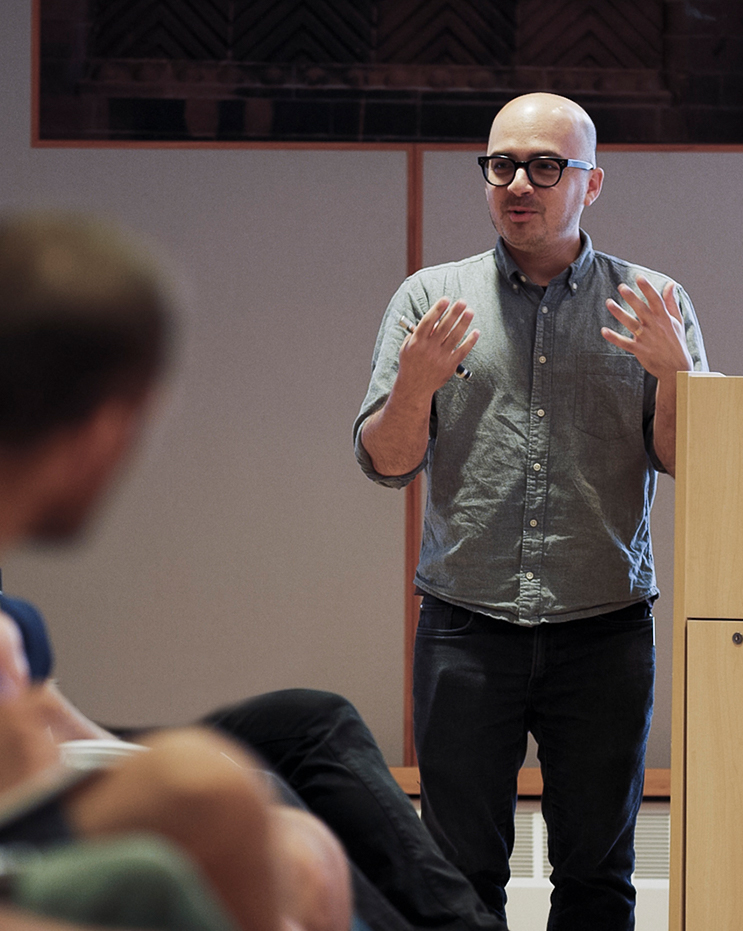 Date Posted
February 18, 2022
For More Info
Categories
NewsCampus and Community
Source
Steve Neumann
Way back in the third grade, Mark Rukamathu and his best friend made a pact with each other that they would one day become architects. But as time went on, Mark forgot about that pact as he became interested in music, especially music equipment and technologies. Because of that interest, when the time came to start thinking about college, he decided to go into engineering.
"And then I realized I just didn't like engineering," Mark said. "That's when I remembered the pact I had with my friend. I had always liked to draw, so I switched over to architecture, and everything seems to have fallen into place at that point in time."
Fast forward 18 years, Mark became an architect, just like he vowed he would in his childhood pact. Today he is Director of Special Projects and a faculty member, as well as the steward of The Boston Architectural College's professional practice curriculum.
Mark's journey to the BAC was anything but traditional. He started by attending classes at a community college, received his bachelor's in architecture from the University of Arkansas and his master's from Harvard University's Graduate School of Design, came to the BAC ultimately by way of Bangkok, Thailand.
"I'm half Thai," Mark said. "I was born in the U.S. but moved to Bangkok, Thailand at a young age. When I was 17, my parents wanted me to go to college in the U.S., so they sent me to live with my grandparents, who had retired in Arkansas, to become a resident and get in-state tuition and apply for scholarships."
After working as a project coordinator for a couple of architecture firms in Arkansas after graduation, Mark started to get the bug for teaching.
So when he got the opportunity to return to Thailand to be part of the full-time faculty in Chulalongkorn University's International Program in Design and Architecture, he jumped at the chance.
"But I realized that at a certain point you can only get so far in teaching with a bachelor's degree," Mark said. "So I did my masters at Harvard, and when I graduated in 2013 and started looking for teaching positions, the BAC welcomed me."
Today, Mark's main interest is the professional practice aspect of architecture, because he believes that balancing professional practice with good design makes for good architects—and he loves that the BAC emphasizes both.
"I don't want to just make designers in the world," Mark said. "I want to make people who are good designers but also good practitioners and business people who really understand how to design a great building but also see that those great buildings get built on time and on budget, and understand all the complications that come with that."
In keeping with his interest in professional practice, Mark is also one of the BAC's architect licensing advisors for the Integrated Path to Architectural Licensure, or IPAL. Normally, aspiring architects can't start taking the examinations for licensure until they graduate, but this program allows students to begin the architectural licensing process while they're still in school.
"It's still somewhat of a pilot program in the National Council for Architecture Registration Board," he said. "But at the moment we actually have the most IPAL graduates in the country."
Mark believes the BAC is the perfect environment for a program like IPAL, because of its emphasis on professional practice, and because of the unique composition of the BAC student body.
"Our students are very interesting because they come from such a wide background," Mark said. "We have a lot of students that are a non-traditional and have some interesting or quirky experience. They're coming to us because they want to become architects, but they bring that other experience with them."
Date Posted
February 18, 2022
For More Info
Categories
NewsCampus and Community
Source
Steve Neumann