Honoring a Lifetime Legacy: Tony Magliozzi, B.Arch '62
---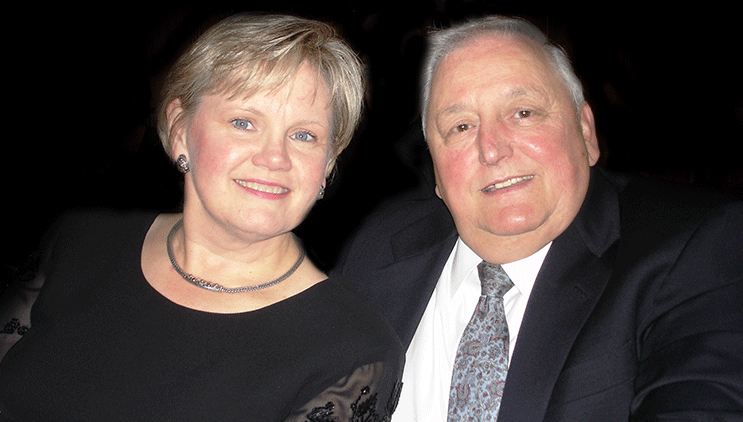 Date Posted
February 16, 2021
For More Info
Categories
NewsAnnouncementCampus and Community
Source
Nancy Finn
For James "Tony" Magliozzi, B.Arch '62, The Boston Architectural College (BAC) served as the catalyst for a long, rewarding career in a field he loved. Following his passing in 2012, in accordance with her husband's wishes, Judy Nitsch announced a seven-figure bequest, the largest gift in the College's history, aimed at creating a new legacy aligning with the BAC's bold vision to inspire a new generation of architectural leaders.
"The BAC's commitment to ingenuity and innovation combined with our ability to adapt has taken the college from a visionary club at the turn of the 20th century to a nationally top-ranked institution prized for its diversity and excellence," said BAC President Mahesh Daas. "Our new 'BAC to the Future' strategic plan aspires to expand the BAC's reach to serve people in Boston and beyond through exceptional onsite and online learning experiences. The Tony Magliozzi and Judy Nitsch gift provides the liftoff for our new vision, while strengthening our mission."
Developing a Passion and Career
A proud Italian American, Tony grew up in Somerville and Arlington, where he worked on construction projects with his father, a stonemason, and uncle, a homebuilder, during high school. Following graduation, he chose to enlist in the Coast Guard, launching a distinguished military career, which included serving during the Korean War. It was during a conversation with a superior in the Coast Guard that Tony first learned about the BAC.
"Tony was helping oversee the Custom House Tower renovation in the late 1950s and one of his higher-ups said, 'Magliozzi, what are you going to do when you get out?' And he said, 'I don't know,'" Judy recounted. "The officer said, 'You ought to check out this architectural school down in the Back Bay. It might be a good thing for you.'"
After leaving the military, Tony took his superior's advice and enrolled in the BAC, which was known for its educational model of learning in academic and practice settings simultaneously. Tony felt right at home pursuing his professional degree in architecture while working for architectural firm Jim Ritchie & Associates.
"Tony was a quintessential BAC student," Judy said. "He didn't enroll right out of high school. Instead, he joined as an older student with real-world experience -- attending school at night and working during the day. The BAC is great at creating an environment where learners from all backgrounds and circumstances can thrive, just like he did."
Building a Legacy of Mentorship
Equipped with a BAC degree combined with his unique construction background and uncompromising work ethic, Tony quickly made a name for himself in the architectural community as a smart architect with deep understanding of both the design and construction processes.
"I found Tony to be one of the most informed architects I ever worked with when it came to understanding requirements of the systems we designed and installed," said Tony's colleague John McKevitt, a mechanical engineering construction administrator with Jaros, Baum & Bolles in NYC. "His focus was always on the client and providing them with the finest buildings."
His focus was always on the client and providing them with the finest buildings.
Tony's early projects included several hospitals across the East Coast as well as the Brandeis University Student Union Building. During a job for Lynnfield's Eastern Bank in the mid-1980s, he met his wife Judy, who was serving as the project's civil engineer. Although the pair had disagreements during the assignment, they eventually found common ground in their shared work, and began a relationship spanning 27 years.
According to Judy, one of the highlights of Tony's professional career was working for Hugh Stubbins & Associates and serving as the job captain during the design and construction of the Federal Reserve Bank in Boston.
"In addition to managing the design and development of the construction documents, he became Stubbins' construction administrator for the core and shell," Judy said. "He was then recruited by 'the Fed' to be their manager for the tenant fit-out for the next three years. That set him on the path of being a construction administrator for the second half of his career."
Other earlier career highlights included the design and construction of the Warren (Ohio) Tribune Newspaper Headquarters, the Princeton University Cyclotron, and projects for Columbia University Teachers College. His last job was serving as the Nashoba Regional School District project manager during renovations and additions to two schools. One of his claims to fame is that during his career, from the Federal Reserve Bank to the later public school assignments, none of his projects had lawsuits.
"Tony's knowledge of design, owner responsibilities, and all of the trades helped him understand each side's issues and shortcomings, allowing him to negotiate among the owner, architect, and contractor to each party's general satisfaction," Judy said. "Oftentimes those negotiations involved martinis!"
Through his many jobs, Tony earned a reputation as a strict, but generous, leader, committed to educating the younger members of a project, particularly in areas related to construction.
"While Tony could be hard and tough, he always worked to be fair, and was always willing to help others," said Jim Barrett '87, a BAC board member and family friend, who worked closely with Tony on multiple projects. "I realized that I absolutely needed this guy around my young design team at Drummey Rosane Anderson."
Tony's commitment to mentorship also extended to members of his own family, including his niece Wendy Magliozzi, who launched her own architectural career and is now a principal at D'Agostino Izzo Quirk Architects.
"My uncle influenced me by example -- imparting the value of planning, preparation and attention to detail," Wendy said. "Even when I was in high school, he encouraged me to bring my best effort to each task, and to anticipate and examine the next steps for completing an assignment."
Giving Back and Planning Ahead
When Tony and Judy discussed their estate plan prior to his passing, they knew they wanted to support the academic institutions that helped launch their careers-The Boston Architectural College for Tony, and Worcester Polytechnic Institute for Judy. In 2012, the pair made an initial gift in honor of the BAC's 125th anniversary to set up The James A. Magliozzi, R.A. and Judith Nitsch, P.E. Fund, a special trust dedicated to meeting practical needs related to the college's facilities.
"Because of our work with buildings, we recognized how much upkeep facilities need. And nobody donates money to repair a boiler," Judy said. "We decided our fund would be used for the roof that leaked, the boiler that blew up, the handicapped access that they had to make or the bathroom that had to be made handicapped-accessible."
When Tony passed away, Judy asked that donations be sent to the fund in lieu of flowers, which added a significant amount to the initial endowment. "I was flabbergasted when I saw the list of all the architects and firms that contributed," Judy said. "It was really, really lovely."
In 2012, the BAC recognized Tony's contributions by naming an elevator in his honor. "He would love that the BAC chose to honor him with an elevator," Judy said. "Accessibility was very important to Tony."
Looking to the Future at the Bac
Today, Judy proudly continues Tony's legacy at the BAC, serving as a trustee since the fall of 2016. She recently chaired the search committee that hired President Daas in 2019, and even completed a History of Architecture course at the BAC in 2020.
As we enter 2021, Judy is excited to partner with the BAC in its new strategic plan, which aims to drive excellence in practice-driven design education that is accessible to diverse communities.
"The BAC is a critical academic institution because it provides access to education for people like Tony," Judy said. "He was the son of an immigrant, who didn't go right to college. His parents couldn't afford to pay for it-he worked his way through and had a fabulous career. The BAC creates opportunities for a diverse range of students, many of whom may not otherwise be able to make an architectural career a reality."
As she continues to invest in the BAC on behalf of her late husband, Judy is passionate about encouraging alumni and other leaders in the architecture community to get involved as well.
"We have a wonderful alumni group, and I want to see even more people engage," she said. "Supporting the BAC is the best time and money you can spend. You are truly paying it forward for the future generation."
The 1889 Legacy Society recognizes and honors all individuals who provide support for the BAC in their wills, trusts, life income gifts, retirement plans, life insurance designations, and other planned gifts. Members of the 1889 Legacy Society are invited to special gatherings and are recognized for their foresight and commitment to the long-term vision for the College's future. Named for the year in which the BAC was founded, the 1889 Legacy Society recognizes the vital role benefactors have played over the College's 130-year history. For more information about the 1889 Legacy Society, please email giving@the-bac.edu.
Date Posted
February 16, 2021
For More Info
Categories
NewsAnnouncementCampus and Community
Source
Nancy Finn