Q&A with the BAC's New President Mahesh Daas
---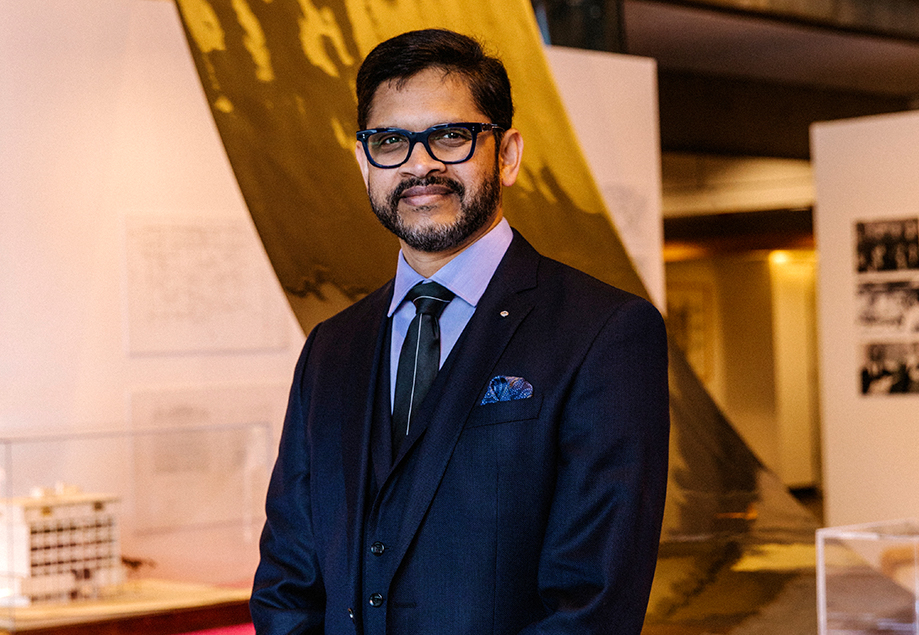 Date Posted
July 12, 2019
For More Info
Categories
NewsBAC in the NewsCampus and CommunityPresident's Blog
Source
Ashley Abon
We are thrilled to welcome President Mahesh Daas to the Boston Architectural College! In honor of his first day as President, we asked him a few questions to better get to know him and discover his vision for both his Presidency and the larger BAC community.
Q: How would you describe your leadership style?
A: Inclusive, collaborative, compassionate, engaging, energizing, empowering and progressive. Leadership is not a job. It is a privilege that needs to be earned through service.
Q: What do you do for fun?
A: Play cricket with my kids Charmi and Chirag and our old mini poodle Master Yoda. Every night, I enjoy putting my kids to bed and tell them an original story that we invent together. I am a fan of all things SciFi. I also like to read and write existentialist literature.
Q: What made you want to pursue a career in architecture and design?
A: The opportunity to combine my creative and technical faculties through design and social change. I like the fact that design allows all of me to be intensely engaged in understanding and creating environments for life to unfold.
Q: What is the biggest risk you've taken?
A: At the age of 22, leaving everything and everyone I had known at that point of time behind me, boarding a plane for the first time, leaving my native country for the first time, and landing in the middle of Kansas winter night with a suitcase, a loan of $1500, and a lot of hope, looking for Kal-El and an advanced education. It was the greatest culture shock of my life. The risk has paid off well for me.
Another big risk I had taken was to enroll fulltime in the executive doctorate program at UPenn in the middle of my life and career, commuting every month to Philadelphia while doing a fulltime job as a head of the department and raising two young kids. Thanks to the support from my wife and mentors, I completed the program in two years and won distinction for my dissertation that later became a book. So, yes, that risk has also paid great dividends for me and my family.
Q: What goals do you hope to achieve in your Presidency?
A: String together the BAC family of students, alumni, faculty, staff and friends to collaboratively realize our collective vision and become a premier global destination for design education. I would like to build on the work of many people who shaped this institution over the past 130 years. I would like to ensure the College becomes organizationally more robust and financially more sustainable for a long time to come. I am excited to tell the BAC story and to include in our journey all who aspire to advance our mission.
Q: As a first-generation immigrant, what advice would you give to international students at the BAC?
A: If we really think about it, we are all immigrants in this life and world. First generation immigrants can relate to this fact of life through their experiences. We are all temporary stewards of the world that we come into, live in it for a finite amount of time, and hand it to the future generations. My advice to not only the international students, but to everyone is to know that they belong here, they are valued here, they can thrive here, and can make great contributions to the world.
Q: What does diversity and inclusion mean to you?
A: Diversity and inclusion are two complementary conditions of our world. Diversity acknowledges the infinitely rich, myriad and distinctive manifestations of life. Inclusion values and affirms the fundamental interconnectedness and universal unity of all life. Inclusion and diversity go together with empathy and humility. Empathy allows us to expand our sensory boundaries and include fellow humans and other beings as part of ourselves and our identity. When we include all world, when inclusion is our approach to embracing the world, we end up caring about all world.
Q: What are you most looking forward to about moving to Boston?
A: Boston is an inspiring place of possibility that allows people to think and act in ways that positively impact the world. My family and I are excited about the abundance of opportunities to connect with the many wonderful people and institutions. We look forward to enjoying the variegated landscape of New England. Having written about how MIT's evolution from a sleepy technical school in Back Bay into a world-class creative institution, I have spent quite a bit of time in the city. So, it is a dream come true for me to be finally able to move to this great epicenter of education and innovation.
Date Posted
July 12, 2019
For More Info
Categories
NewsBAC in the NewsCampus and CommunityPresident's Blog
Source
Ashley Abon