Student Story: Gabriela Lamoureux (BDS-SD '22)
Gabriela Lamoureux came to study at the BAC because of her love of art and design. In the process, she learned to define her core values and motivation as a designer.
---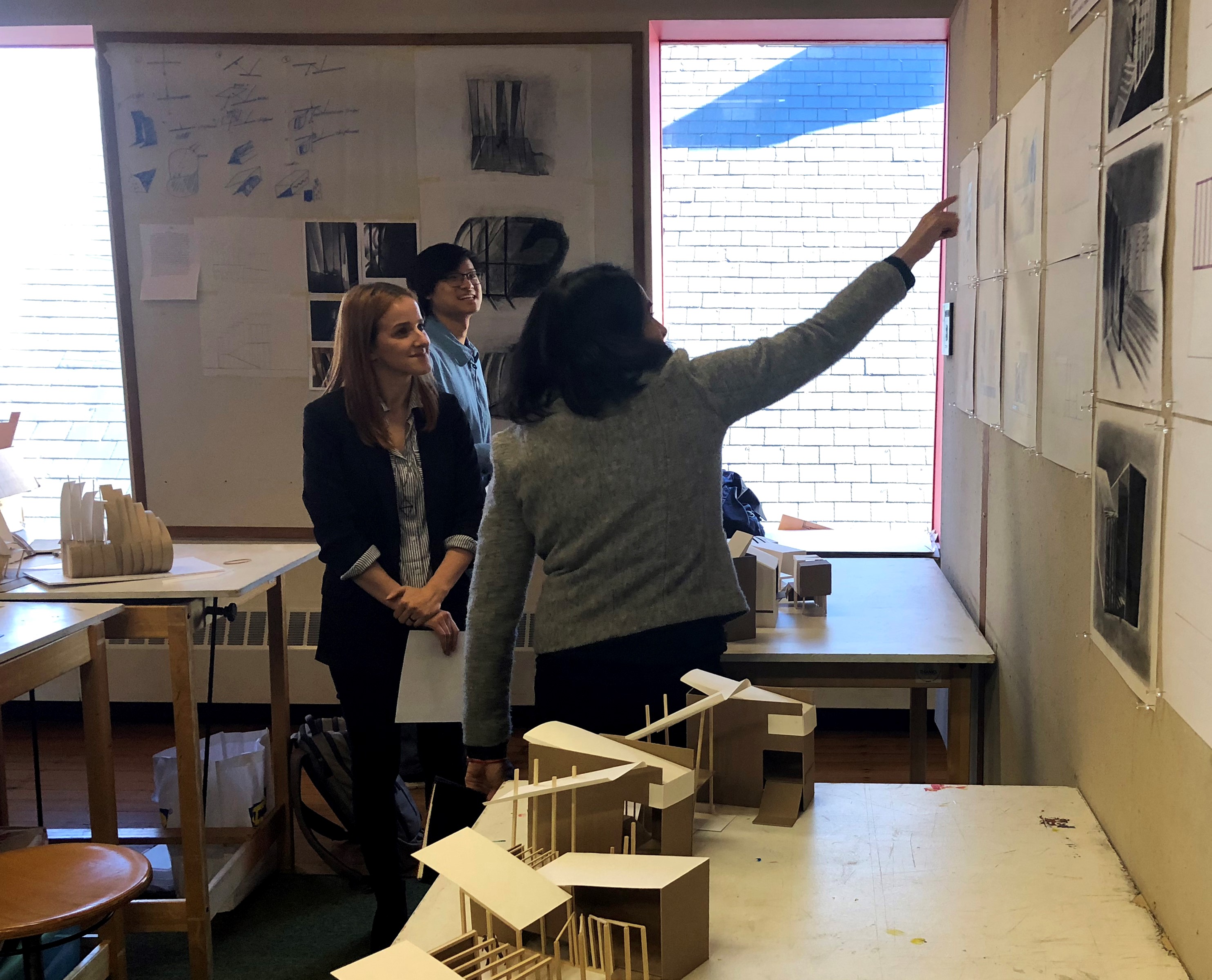 Date Posted
October 04, 2021
For More Info
Categories
NewsCampus and Community
Source
Steve Neumann
Gabriela Lamoureux is someone who is fascinated by art and design, gets excited about solving practical problems, and loves collaborating with other people.
She comes by it honestly. Her father, an orthodox priest without any design background, was always passionate about building things with his own hands. He designed and built all the furniture in their home in the small village in Cetatea, Romania where she grew up. As a child, Lamoureux would regularly help her father in his workshop.
"Then around the age of 13," Lamoureux said, "my dad asked me what I liked doing and could do without getting bored, and I answered: drawing, planning, and crafting. He then suggested I research architecture as a career choice."
That was the first conversation about life goals that Lamoureux had had with her father up to that point, and it motivated her to pursue a high-school education that would prepare her for a future in design.
"The BAC resonated with me because it was very focused in architecture and also offered the possibility of gaining experience in your field while getting your education as well," Lamoureux said.
*
Lamoureux initially came to the BAC for a Bachelor of Architecture, but after taking a couple of classes on sustainability, she became interested in learning more about it.
"When I started last year I took the Design Studies Practicum Seminars 1 and 2," Lamoureux said, "which are both key courses of the curriculum. They both helped me define my motivation, my core values, and even my design methodology."
Lamoureux ended up transferring to a Bachelor of Design Studies with Sustainable Building Technology because she wanted to learn more about how sustainability can affect both the built and the natural environment.
"Over these past three years alone, I've learned how destructive the construction industry is to the natural environment," Lamoureux said. "So my ultimate personal goal is to unify architecture and sustainability into one."
For Lamoureux, it's important to create a world where architecture heals and aids in fighting climate change, not the other way around, and where it brings harmony to both humans and the natural environment.
"I've also embraced sustainability as a life philosophy," Lamoureux said. "And by that I mean that sustainability shouldn't be only about building energy efficient buildings, it should also be holistically applied socially and economically."
Mission Hill Museum and Cider Brewery
*
After Lamoureux graduates with her bachelor's next year, she plans on going right into the Master of Architecture program at the BAC.
"I really love the school," Lamoureux said. "It's not a standard education. It's catered to you as a student and as a person, and not just a checklist of doing this and that — it's responsive to the individual."
Fortunately, Lamoureux has landed a position with a firm that will allow her to apply her values and the skills she's learned by working full-time as a project designer at BF Architects in Plymouth. The firm specializes mainly in residential work and small commercial projects.
"I'm quite excited because on my first day on the job, I was already in charge of running a whole project by myself," Lamoureux said. "It was started by the principal in charge and now I'm taking it further."
While she's appreciative of the opportunity this new firm offers her, Lamoureux is also grateful for the foundational skills she gained from her internship at David L. King Architects last year.
"I learned a little bit about everything since I was assisting with every phase of the design process as his right-hand, so to speak," Lamoureux said.
And while she learned a lot through her internship, Lamoureux feels that what's been helping her the most is her instructors at the BAC, particularly Chala Hadimi and Manuela Mariani, Assistant Director of Foundation Studios.
"They influenced my confidence as a designer, and pushed me to challenge myself to always do a little bit more than what was expected of me," Lamoureux said. "They allowed me to think for myself, make my own decisions, and not be shy in speaking my mind as to what I think about a design."
Walnut Hill Residence
Date Posted
October 04, 2021
For More Info
Categories
NewsCampus and Community
Source
Steve Neumann