Student Story: Molly Schmidt (M. Arch '21)
Discover how BAC student Molly Schmidt is using her passion for design, construction, and architecture to give back
---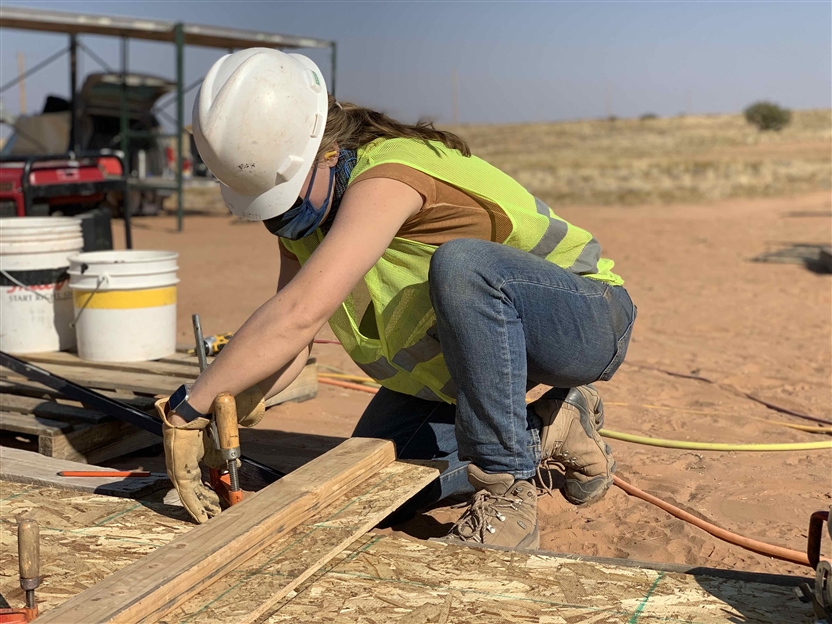 Date Posted
April 06, 2021
For More Info
Categories
News
Source
Ashley Abon
What inspired you to pursue architecture?
Growing up, I spent a lot of time with my Dad and Uncles on construction sites. I loved being outside and making things. I was also very curious about the world around me, which led me to study global health and education at the University of Illinois. I was inspired by the global health movement because it applied anthropology and community strategies, what designers might now call design thinking, to social issues. When one of my global health heroes, Dr. Paul Farmer, partnered with a new social impact architecture firm called MASS Design Group, the architecture seed was planted. Using a mission driven design methodology, these designers were able to address critical social, economic, and environmental challenges through the built environment. I wanted to learn these strategies, but I didn't know where to start.
Second, I fell in love with adobe and design build education when I was building earthships in New Mexico. I was introduced to recyclable materials, grey water systems, solar, aquaponics, adobe, and living harmoniously with nature. It was a very romantic experience to wake up each day with the expansive Taos sunset, a little dirty, ready to put my hands in the mud and bend my brain in new directions, all while enjoying the company of an extremely diverse and beautiful group of people. I thrived. I felt empowered in such a hands-on learning environment. Both experiences taught me that the process of building and interconnecting of people and resources are as integral to the design process as the final structure. For the first time, I could see myself designing, building, and teaching.
How has studying architecture impacted the way you see the world?
I see more connections between social, economic, and environmental factors. Walks have gotten longer as I try to figure out why or how places and structures became what they are now, what their histories are, and how the community interacts with each other and their environment. I believe architecture is about relationships and connections; nothing can stand alone. Architecture also offers us choices, where to build, how to build, with who to build, with what material, with what intention. It's an opportunity to be a better steward of the earth, of your neighbor. It's a reflection of what we value, who we are, and who we want to become.
What led you to study at the BAC? And what has been your favorite part about your time at the BAC?
I was attracted to the BAC because of its diverse student population and its work study model. The BAC open enrollment process made an architecture education accessible to me-- their relationship with the surrounding community and focus on community engagement aligned with my interests.
My favorite part about the BAC are the students and staff. In the Transdisciplinary Studio, I met other students like me who had not studied architecture but brought unique experiences and insight into the classroom. In my first semester, a teacher who knew my interests suggested I take a Social Entrepreneurship Class taught by a director at MASS Design Group. The next semester, I was employed at MASS. When I expressed my desire to participate in a Design Build Program, my advisor and I planned on how I could still graduate on time. These are a few examples of how dedicated the staff are to understanding my goals and working with me to make them happen.
Tell me a little bit about your work with Design Build Bluff.
I became aware of Design Build Bluff through organizations like Enterprise Community Development, Association for Community Design, and my work at MASS Design Group, where I focused on housing and sustainability projects with Native Communities. Every fall, a graduate studio from the University of Utah, and one volunteer (that was me!) design a home to be built on the Navajo Reservation in the Four Corners area of southern Utah.
This year, we had the privilege of working with the Dee family to design their future home, Four Peaks. We spent the summer designing the home and learning about Navajo culture and in the fall moved to the remote Design Build Bluff desert campus in Bluff, Utah. The pace of the build, the remoteness of the site, and the pandemic presented extreme challenges to sourcing and financing building materials. However, the beauty of the landscape, and the learning that each new sunrise brought more than made up for these difficulties. I am deeply grateful to the Dee Family for trusting us with their dream and for teaching me about the importance of our connection with the land and each other.
The concept of the project was developed from the themes of health, comfort, and flexibility within a sweat equity model. The sweat equity model meant that the Dee family contributed their labor with the hope that they could learn enough to expand their home in the future. To make this possible, we designed for ease of construction and expansion. The structure is separated into four modules that are shifted in opposite directions, which allows for a natural partition of space and gives the ability to expand from north to south in the future.
What are your plans for after graduation?
After graduation, I hope to continue working alongside communities in community development and affordable housing. I love working with students to foster their dreams and goals, especially through design and making. There are so many motivated hardworking people out there who have ideas for energizing their communities, I'd like to help bring people together to channel that people power in whatever form that takes. I hope to have home bases in both Chicago and Bluff, to create my own family, to enjoy the outdoors with friends and family as much as possible, to support women, and to be paid well.
Read more about Molly's project with Design Build Bluff as featured in ArchDaily here.
Date Posted
April 06, 2021
For More Info
Categories
News
Source
Ashley Abon