2023 Childs Lecture Series: Pascale Sablan
I Was Asked to Stand
---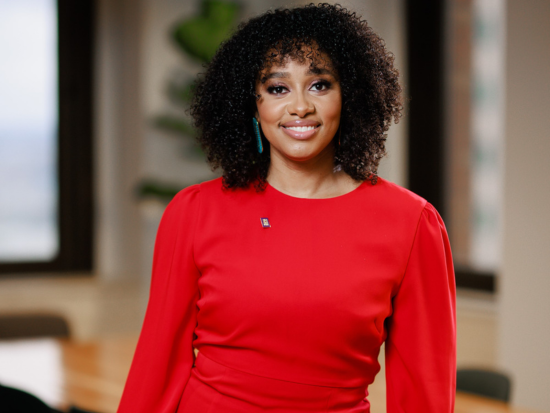 Date
October 05, 2023
Time
6:00 p.m.
Location
Cascieri Hall
For More Info
Cost
FREE
Categories
Events Lecture Childs Lecture
Join us in person or on Zoom.
Zoom Meeting ID: 921 8382 9816
Passcode: fall2023
"I Was Asked to Stand" is a unique discussion that empowers the audience to engage in the dismantling of injustice by highlighting the disparity of lack of representation, documentation, and acknowledgment of the great works of diverse (Women and BIPOC) designers and architects.
Join us in person at Cascieri Hall or on Zoom for this year's Maurice F. Childs Memorial Lectureship Series.
Meet Pascale Sablan, a visionary architect with an impressive track record of transforming the built environment. As an Associate Principal at Adjaye Associates, she brings over 15 years of experience and an unparalleled passion for designing structures that serve society.
Pascale's achievements are numerous, including being the 315th living African-American woman registered architect in the United States. She is an activist architect who has made it her mission to address the inequitable disparities in architecture. In pursuit of this goal, she founded the Beyond the Built Environment organization, which has become a beacon for women and BIPOC designers seeking to make their mark on the field.
As the Global President of the National Organization of Minority Architects, Pascale has become a trailblazer in the industry. She is the fifth woman to hold this prestigious position in the organization's 52-year legacy, a testament to her unwavering commitment to progress.
Pascale's advocacy efforts have earned her numerous accolades, including the Architectural League 2021 Emerging Voices award and the 2021 AIA Whitney M. Young. Jr Award. She has also been inducted into the AIA College of Fellows, the youngest African American to receive this honor in the organization's 167-year history. Additionally, Pascale has received the Graham Foundation Grant and the Architects Foundation Grant for her research and exhibitions with affiliated programming.
Pascale's influence extends far beyond the United States. She has given lectures at colleges and universities nationally and globally, including prestigious institutions like the RIBA, the United Nations, and the Smithsonian National Museum of African American History and Culture.
In the media, Pascale has been described as a "powerhouse woman" and a "rarely missed opportunity to note the importance of the connection between the professionals conceiving and constructing our environments and the people they should serve." Her work has been featured in The New York Times, NPR, and Forbes magazine, and she was recognized by Oprah's Future Rising platform for Black trailblazers.
Pascale's educational background includes a Bachelor of Architecture from Pratt Institute and a Master of Science in Advanced Architectural Design from Columbia University. With her unique perspective, unwavering dedication, and undeniable talent, Pascale Sablan is poised to continue shaping the future of architecture for years to come.
Established in 2008, The Maurice F. Childs Memorial Lectureship Series honors the memory of Maurice F. Childs—a dedicated preservationist and celebrated architect who co-founded the Boston-based firm CBT Architects. The BAC and CBT have a long professional and personal history: CBT co-founders Maurice F. Childs, Richard Bertman, and Charles Tseckares taught at the BAC, along with other firm employees. CBT continues to employ and mentor many students and alumni. CBT principal, Kishore Varanasi AICP, serves on the BAC Board of Trustees.
Date
October 05, 2023
Time
6:00 p.m.
Location
Cascieri Hall
For More Info
Cost
FREE
Categories
Events Lecture Childs Lecture
Join us in person or on Zoom.
Zoom Meeting ID: 921 8382 9816
Passcode: fall2023