A Tribute to Balkrishna Doshi
Featuring Moshe Safdie joined by Nader Ardalan and President Mahesh Daas
---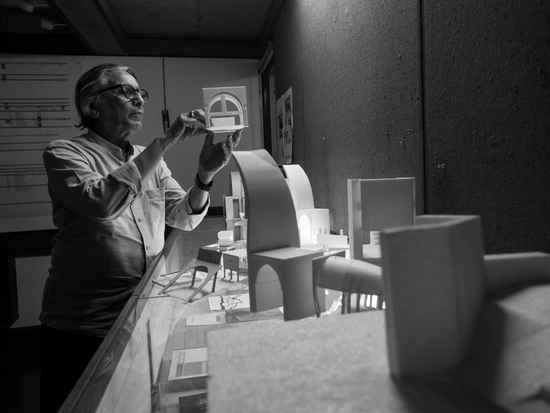 Date
March 13, 2023
Time
6:00 - 8:00 p.m.
For More Info
Cost
FREE
Categories
Events Exhibit
We invite you to join us for this special occasion to pay tribute to the life and accomplishments of Pritzker Prize winning Indian architect and our college's Honorary Alumnus Balkrishna Doshi, who passed away at the age of 95 on January 24, 2023.
This tribute to Balkrishna Doshi will feature renowned architect and BAC Honorary Alumnus, Moshe Safdie, accompanied by his friend and colleague, distinguished architect, and scholar Nader Ardalan.
In 1975-1976, Safdie, Ardalan, and Doshi, along with other leaders, played crucial roles in shaping the Habitat Bill of Rights, a document that aimed to tackle the pressing housing needs of the world's expanding population. The evening will be particularly significant as all three have had a personal connection to the BAC—underscoring our global institution's commitment to addressing the challenges of housing and urban development.
The evening commences at 6:00 PM in the BAC's McCormick Gallery at 320 Newbury Street, Boston, which is showcasing an original exhibit,Architecture is Within Us: The Selected Works of Balkrishna Doshi, followed at 6:30 PM in Cascieri Hall for personal reflections and tributes to Balkrishna Doshi.
Please join us in paying tribute to the life and accomplishments of an iconic architect, pioneer, educator, and our friend, Balkrishna Doshi.
Date
March 13, 2023
Time
6:00 - 8:00 p.m.
For More Info
Cost
FREE
Categories
Events Exhibit