Slowness : Banyan Park, Tata Consultancy Services, Mumbai, India
McCormick Gallery Exhibit
---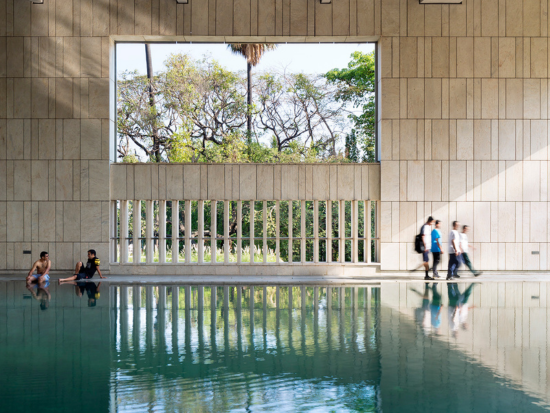 Date
October 18, 2023 - January 21, 2024
Location
McCormick Gallery
For More Info
Cost
FREE
Categories
Events Exhibit McCormick Gallery Exhibit
In 1999, Tod Williams and Billie Tsien wrote an essay in the magazine 2G titled "On Slowness." It began as a lamentation for the loss of the drawing tools of architecture but was really a meditation on the importance of design as a slow practice. Today, the idea of "slowness" is ever more fragile and ever more precious. Architecture remains essentially slow; it is a discipline that profoundly affects the physical world and requires special attention to the unique materiality of its place.
In 2003, Mr. Ratan Tata contacted Tod Williams Billie Tsien Architects and Somaya & Kalappa Consultants, based in Mumbai, to design a modern technology campus for Tata Consultancy Services (TCS). He envisioned a high-tech 2,000 person campus seamlessly integrated into the 23-acre wooded property in Mumbai, India. Ratan Tata himself studied architecture, and he believed this project had the potential to signify the importance in forging a design approach closely tied to its culture and surrounding landscape. The extensive project spanned over a decade and involved over a hundred architects and engineers, spanning two continents, as well as thousands of construction workers and craftspeople. The project was an education in the country's storied traditional handcrafts and its concurrent technological innovations. Brinda Somaya, of Somaya & Kalappa Consultants, was TWBTA's local partner and guide to understanding the arts, architecture and traditional building methods of India to ensure TCS's new campus was a thoughtful expression of Indian culture.
This exhibition presents TATA Consultancy Services, Banyan Park, as a manifestation of designing with "Slowness." The deeper one is immersed in a place - and develops relationships with those who know it best - the more beloved and enduring the result.
Date
October 18, 2023 - January 21, 2024
Location
McCormick Gallery
For More Info
Cost
FREE
Categories
Events Exhibit McCormick Gallery Exhibit