Polish American Architect Daniel Libeskind To Receive Honorary Doctorate At The Boston Architectural College's 2023 Commencement
PRESS RELEASE
---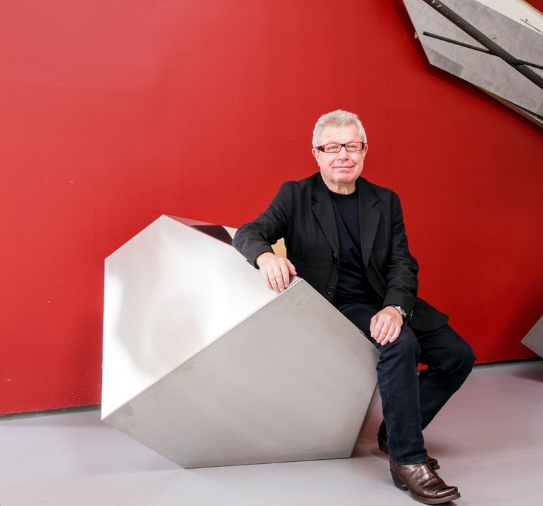 Date Posted
May 01, 2023
For More Info
Categories
NewsAnnouncement
Source
Communications Team
The Boston Architectural College (BAC) is pleased to announce that celebrated Polish American architect Daniel Libeskind, an international figure in architecture and urban design, will receive an honorary doctorate and deliver the commencement speech on Friday, May 26. Daniel Libeskind joins an illustrious list of recent Commencement speakers at the BAC that includes architect Billie Tsien; Pritzker prize winner Balkrishna Doshi; architect William J. Bates; landscape architect and artist Martha Schwartz; and BAC alum Robert (Bob) J. Vila.
"It is a privilege to welcome world-renowned, Polish American architect Daniel Libeskind to visit our Boston campus and receive an honorary doctorate at this year's graduation ceremony," said President Mahesh Daas. "By listening, learning, and embracing Mr. Libeskind's inspiring vision, and strong sense of human spirit that he brings to his designs, we also celebrate our community's unwavering commitment to fostering creativity, diversity, and innovation. I know we eagerly look forward to sharing thoughts, ideas, and new experiences as we gather to recognize our graduating students who will shape the future of architecture and our global society."
As Founder and Principal Design Architect of Studio Libeskind, Mr. Libeskind has designed and realized a diverse range of projects around the globe, including museums, cultural centers, towers, residences, master plans and public spaces. Renowned for the ability to evoke cultural memory in his buildings combined with an approach that draws from a deep commitment to music, philosophy, and literature, he aims to create architecture that is resonant, original, and sustainable.
Mr. Libeskind established his architectural studio in Berlin, Germany, in 1989 after winning the competition to build the Jewish Museum in Berlin. In February 2003, Studio Libeskind moved its headquarters to New York City when Mr. Libeskind was selected as the master planner for the World Trade Center redevelopment. His extensive depth of work also includes the Imperial War Museum North in Manchester, the Denver Art Museum and the Royal Ontario Museum in Toronto. Mr. Libeskind is currently working on a number of projects around the globe, including the reimagined Tree of Life Synagogue in Pittsburgh, the site of the worst antisemitic attack in the United States.
"It is truly an honor to be invited as The Boston Architectural College's commencement speaker and receive an honorary degree," said Mr. Libeskind. "At this moment, starting a career in architecture offers both great challenges and opportunities to address environmental concerns, climate change, income inequality, and a variety of social issues that cannot be solved solely by technology. This will be an inspired generation of architects who can tackle these issues with the goal of making the world a better place to live."
As Principal Design Architect for Studio Libeskind, Mr. Libeskind speaks widely on the art of architecture in universities and professional summits. Along with winning numerous awards and having his work exhibited in major museums around the world, his architecture and ideas have been the subject of many articles and exhibitions, influencing the field of architecture and the development of cities and culture. Mr. Libeskind's book, Edge of Order, detailing his creative process, was published in 2018.
Founded in 1889, The Boston Architectural College (BAC) is an internationally recognized institution of spatial design with a diverse student and alumni population representing more than 54 countries. Providing excellence in practice-integrated design education, the BAC was Ranked #1 for Best Graduate School in Architecture for Earning Potential and #4 for Best Architecture School Offering Bachelor's Degrees in the U.S. in 2020 by GradReports. The BAC offers bachelor and graduate degrees in architecture, interior architecture, landscape architecture, and design studies as well as offering continuing education certificates and courses. The BAC upholds the importance of inclusive admission, diversity, innovation, dedicated faculty, and the intrinsic value of both academic and experiential education.
Date Posted
May 01, 2023
For More Info
Categories
NewsAnnouncement
Source
Communications Team