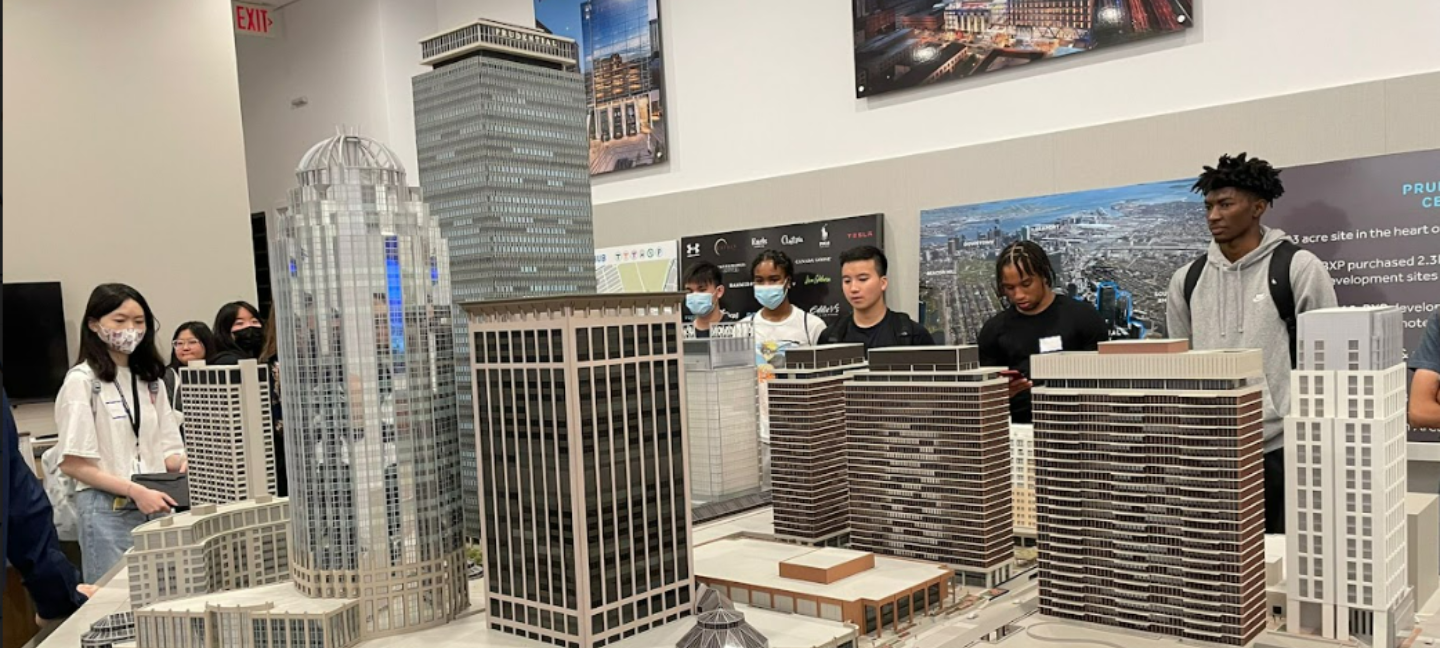 Urban Design and Planning Pre-College Fellowship
Urban Design and Planning Pre-College Fellowship
Are you excited about how cities are created?
The Urban Design and Planning Pre-College Fellowship is for motivated high school-aged students interested in exploring careers in urban design and planning.
This summer Pre-College Fellowship provides students with a rigorous, in-depth introduction to these fields with leading professionals in the Boston area and beyond. Students examine how design and planning can contribute to addressing larger societal issues such as climate change, social justice, and human health through the Fellowship's two components: the Summer Academy Program and the Urban Design & Planning Curriculum, including pre-professional and civic learning training.
The Fellowship Program is a fantastic opportunity for dedicated students to learn about:
Hands-on design skills
Applying design skills to the creation of neighborhoods and cities
How buildings and neighborhoods get built and how to influence their formation
How design can help address larger systems issues such as climate, justice, sustainability, and human health
Virtual Open House
Join us & learn more at the upcoming virtual open house:
Thursday, May 18: 6PM ET
Tuesday, May 23: 6PM ET
Program Details
Fellows enroll jointly in the Summer Academy Program plus the Urban Design and Planning Curriculum, which together support and enhance their learning and development. The Fellowship Program consists of two components:
Summer Academy Program: This hands-on design program is designed for high school students who are curious about architecture, interior design, and landscape design.
Urban Design & Planning Pre-College Curriculum: This pre-professional training prepares students for urban planning and urban design professional practice. It is offered as additional 'wrap around' programming to the Summer Academy Program.
In addition to receiving all that Summer Academy Program offers, the Fellowship Program includes:
In-depth explorations of relevant design-planning foundations and topics
Lunch speaker series with leading practitioners in Boston and around the world
Field trips to firms, non-profits, and government entities
Civic service learning and leadership engagement within the City of Boston and beyond
Professional and career development exploration and preparation
Hands-on urban design project that includes creating virtual and digitally fabricated cityscape models
A final showcase where students present their urban design ideas to city representatives, Boston area design and planning professionals, along with BAC faculty during the last week of the program
During the Urban Design and Planning Curriculum, Fellows learn about:
Planning Foundations:

Urban design and planning foundations
City as a system
Housing, land use/real estate, transportation, economic development, and policy

Related themes/topics:

Climate change and resilience
Community-based planning and social justice
Green, ecological, and sustainable planning and design
Human health and wellbeing
Urban development processes and professions

Skills:

Professional development and career pathways
Digital mapping and GIS
Digital fabrication
Physical and virtual model building
Program Dates: June 26-August 11, 2023*
Program Times: Monday-Friday from 10AM-4PM EDT
Format: Students can only participate on-campus* for this module!
Tuition for Both Programs: $3000, with an early bird special of $2400 if students apply by March 1st
Registration Deadline: June 1, 2023

*Due to the holiday, the program is not in session on July 3-4, 2023.
**On-campus participants are required to follow the BAC's COVID Policies, including submitting proof of full

vaccination with boosters (once

eligible

) or an approved waiver

.

For more information and updates, visit

our COVID page.
Who Is Eligible?
Building on the success of last year's inaugural pilot program, which was created for City of Boston high school aged residents*, we are expanding the program and opening it to all eligible high school-aged students. This year the Urban Design & Planning Fellowship is open to any student* who:
Can attend daily in-person** at the BAC (this program is not offered online or in a hybrid format)
Enrolls in both the Urban Design & Planning Fellowship and Summer Academy Programs
Is entering 9th -12th grade
Is excited about learning urban design and planning foundations and topics Can commit to attending the entire summer

Attendance is mandatory during the first week of the program. This is when students are introduced to the foundational material essential for the rest of the summer.

Returning City of Boston High School-aged 2022 Fellows are strongly encouraged to enroll in the program again!
*The BAC does not issue I-20s for a student visa for our summer program. Therefore, international students are not eligible for the Urban Design and Planning module.
**On-campus participants are required to follow the BAC's COVID Policies, including submitting proof of full vaccination with boosters (once eligible) or an approved waiver. For more information and updates, visit our COVID page.