2023 Fall Lecture Series: Andrew Mitchell, B.Arch'20
John Worthington Ames' Scholarship Lecture
---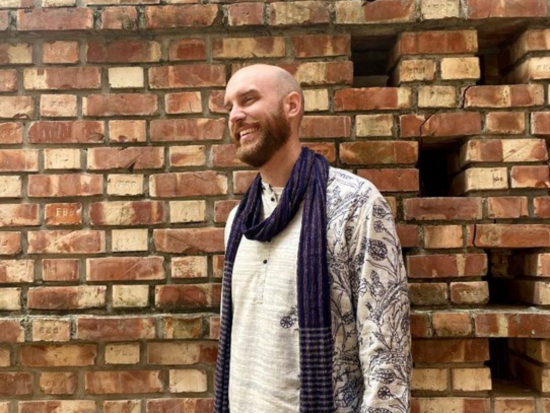 Date
November 01, 2023
Time
6:00 p.m.
Location
Cascieri Hall
For More Info
Cost
FREE
Categories
Events Lecture
Join us in person or on Zoom.
Zoom Meeting ID: 983 2820 0018
Passcode: fall2023
Do the laureate architects celebrated by the quality-of-life focused Aga Khan Award for Architecture have anything in common? Is there anything we can see in the designers or the architecture that transcends culture and place? Questions held lightly over a year's long travel research funded by the John Worthington Ames' Scholarship from Boston Architectural College were immediately subservient to an attitude of listening, exploration, and wonder.
Follow in Andrew Mitchell's, B.Arch'20, footsteps to experience life in Senegal, Palestine, Bahrain, the United Arab Emirates, Pakistan, India, Bangladesh, Boston, and more.
Join us in person at Cascieri Hall or on Zoom.
Andrew Mitchell, B.Arch'20, toured as a musician across the USA, Canada, Australia, South Korea, and South Africa with Arts Empowering Life. After high school, Andrew worked in IT at Paraclete Press for more than a decade as a web programmer and server administrator. A career shift to architecture was prompted by helping build Good Shepherd Academy secondary school in Bafut, Cameroon. While with Architectural Design, Inc. and AD Build on Cape Cod, Andrew worked on residential projects and institutional buildings focused on the arts. He has studied in Italy and Colombia and earned his Bachelor of Architecture degree from The Boston Architectural College.
A John Worthington Ames scholar, Andrew has researched the Aga Khan Award for Architecture winners across the Islamic world. He is a Co-Founder of Detour Habitats, a nonprofit dedicated to bridging the design divide and encouraging design access in areas with prevalent self-construction. Andrew currently works as an architect with Bargmann Hendrie + Archetype focusing on community centers and recreational facilities. Andrew is especially interested in relationships between community, creativity, and faith within the context of architecture process and shares his work on ListeningArchitect.com.
The John Worthington Ames Scholarship was established in 1955 by Mrs. John Worthington Ames in memory of her husband, a distinguished Boston architect and dedicated supporter of the BAC. The John Worthington Ames Scholarship is to be used to further personal development through an educational experience related to architecture and design in accordance with a stated and accepted program. The Ames Committee defines "educational experience" as one that would develop mental, artistic, or cultural capacities.
Date
November 01, 2023
Time
6:00 p.m.
Location
Cascieri Hall
For More Info
Cost
FREE
Categories
Events Lecture
Join us in person or on Zoom.
Zoom Meeting ID: 983 2820 0018
Passcode: fall2023