2023 Spring Lecture Series: Aisha Densmore-Bey
The Artist/Designer: Provocations and Action through the Lens of Creativity
---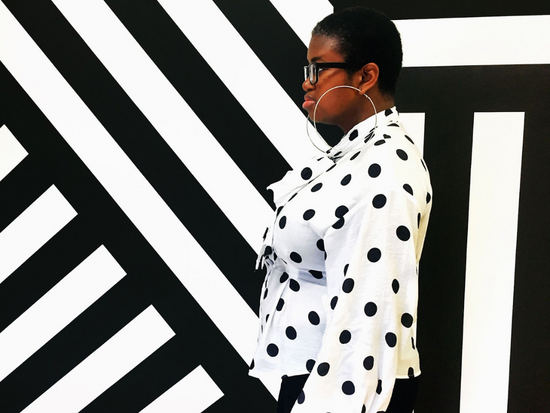 Date
March 08, 2023
Time
6:00 p.m.
Location
Cascieri Hall
For More Info
Cost
FREE
Categories
Events Lecture
Join us in person in Cascieri Hall
or on Zoom
Meeting ID: 991 4994 2397
Passcode: 720289
Aisha Densmore-Bey will candidly discuss creative practice as an exercise of love and activism. She will pose the question: How can one generate a body of work that interrogates and influences the built environment using various mediums, including film, authorship, and graphic design? In addition, Aisha will review her research on how artists have proactively used real estate and urban planning to build culturally rich and celebratory neighborhoods.
Join us in person in Cascieri Hall or on Zoom.
Aisha Densmore-Bey is a Boston based designer, artist, filmmaker, playwright, and writer. She is a 2012 recipient of the American Institute of Architects Associates Award, and has been featured in Architect Magazine, ArchDaily, Design Bureau, Apartment Therapy, and the Lifework Blog of iconic furniture company, Herman Miller.
In early 2014, Aisha created Future Prep 101: How to Prepare Teens for Design Careers™, a half-day seminar which exposes high school students and their parents to multiple design disciplines. The program encourages and assists in the development of the next generation of collaborative creative problem solvers. Future Prep 101™ is a two-time recipient of the BSA Foundation grant. Aisha is author and illustrator of the children's book Who Made My Stuff? Miles Learns About Design, and writer, producer, director of the award-winning film short ROOM. She is co-founder of the collaborative open screening film platform 100 Minutes and is also a burgeoning playwright. Her first one act play, FLIP, was part of the 2022 MIT Playwrights Lab. Aisha is a member of the Dramatist Guild of America.
Presently, Aisha Densmore-Bey is a Doctor of Design (DDes) candidate at the Harvard Graduate School of Design. She holds a Bachelor of Architecture from Florida A&M University and a Master of Science in Strategic Design and Management from the Parsons School of Design at The New School. Aisha's research explores how artists and arts-based planning and development in communities of color can create a framework for healthier and equitable neighborhoods in major US cities. She aims to identify methods of urban real estate development spearheaded by artists; investigating if these actions have increased outcomes of improved health, social cohesion, housing stability, and a minimization of the damaging effects of gentrification; including displacement, neighborhood cultural erasure, and inflated housing prices.
Her creative office, Aisha Densmore-Bey, Designer specializes in architecture, graphic design, film, art, and emphasizes representation for people of color in the design field.
Date
March 08, 2023
Time
6:00 p.m.
Location
Cascieri Hall
For More Info
Cost
FREE
Categories
Events Lecture
Join us in person in Cascieri Hall
or on Zoom
Meeting ID: 991 4994 2397
Passcode: 720289