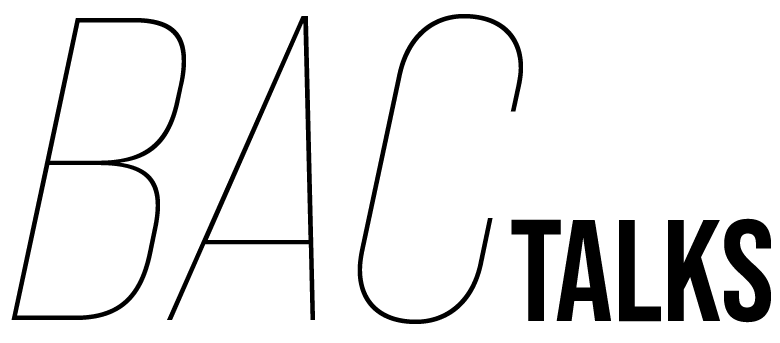 Date
June 14, 2021
For More Info
Cost
Free
Categories
Events BAC Talks
You are invited to join us on June 14, 2021 for our second annual BAC Talks! Click here to register.
BAC Talks is a day-long series of forward-thinking discussions of great relevancy, rooted in our educational mission of diversity and inclusion and inspired by the unique design perspectives and experiences of our global alumni community. As the premier leader and pioneer of design education, we proudly propel the discussion toward the future and lead through design. This year, the theme is Technology in Design and Architecture.
We are honored to announce that the keynote speaker for this year's BAC Talks is Dr. Neri Oxman. Hailed as Nature's Architect, Neri Oxman is a designer, inventor, and researcher. Her design approach and philosophy, entitled Material Ecology, lie at the intersection of culture and nature calling for the unification of the made and the grown across scales and species.

A multi-disciplinary designer, Oxman founded The Mediated Matter Group at the Massachusetts Institute of Technology in 2010 where she established and pioneered the field of Material Ecology, fusing technology and biology to deliver designs that align with principles of ecological sustainability. Oxman became a tenured professor at MIT in 2017.

Oxman received her PhD in Design Computation at MIT in 2010. Prior to that, she earned a diploma from the Architectural Association in London, complementing studies at the Faculty of Architecture and Town Planning at the Technion Israel Institute of Technology, and training at the Department of Medical Sciences at the Hebrew University, Jerusalem. Oxman was an architect and research consultant at Kohn Pedersen Fox Associates in London from 2004-05, during which she also served as Visiting Associate and Evaluator for SmartGeometry Group.

In addition to over 150 scientific publications and inventions, Oxman's work is included in the permanent collections of leading international museums including MoMA, San Francisco Museum of Modern Art, Centre Pompidou, MAK Museum of Applied Arts, FRAC Collection for Art and Architecture, and the Cooper Hewitt Smithsonian Design Museum. Her work has been recognized at the World Economic Forum, where she was named a Cultural Leader in 2016 and is a member of the Expert Network. In 2018, Oxman was honored with the Cooper Hewitt National Design Award and the London Design Innovation Medal. In 2019, Oxman received an Honorary Fellowship by the Royal Institute of British Architects and the Contemporary Vision Award by SFMOMA.

She is the Founder and CEO of OXMAN.

Photography by Noah Kalina
Schedule of Events


9:00 - 9:15 a.m.

Welcome Session with President Mahesh Daas

Kick off the day with Dr. Mahesh Daas Boston Architectural College President and ACSA Distinguished Professor

9:15 - 10:15 a.m.

Social Justice and Equity in Technology and Architecture: Building Structures of Inclusion

Discussion with Luis A. Perez Demorizi (BLA '16) Open Space Coordinator, City of Newton, Janet Roche (MDS '17) BAC Adjunct Instructor, Host of INCLUSIVE DESIGNERS® Podcast; Barry Reaves, Director of Diversity, Equity, and Inclusion, (BPDA), Dr. Nikhil Satyala, Chair BFIT Engineering Technology, Calvin Conyers, BFIT Marketing, Colin Riley, Director of Real Estate Development at the BAC, Dave Snell, Senior Associate PCA, Daniela Coray, (MLA '18) Course Instruction and Faculty BAC, BSLA K-12 BSLA

10:15 - 11:15 a.m.

Building Documentation Technologies: The History, The Future and Beyond!

Join a discussion with Amr Raafat (M.Arch '10) Vice President of VDC & Technology, Windover Construction, along with Jared Curtis President, Existing Conditions, and Kurt Yeghian, BAC Alum, Owner, Existing Conditions.

11:30 - 12:30 p.m.

A Conversation with Dr. Neri Oxman, Moderated by President Mahesh Daas

Have a question for Dr. Neri Oxman? Submit it to alumni@the-bac.edu to have it answered live during the session.

12:30 - 1:30 p.m.

Emerging Strategies in Urban Development and Smart Cities

Join Isra O. Banks RA, NCARB, LEED AP (M.Arch '16), Founder & Architect at TriVek Architects and Margarita Iglesia, BAC Education Director for Curriculum Development and Faculty in Landscape Architecture to discuss the emerging strategies in urban development and urban planning projects taking place in the Gulf Cooperation Council (GCC) and beyond

1:30 - 2:30 p.m.

Hygrothermal Modeling and Building Enclosure Design

Join BAC instructor Lyle Axelarris PE LEED AP, Structural Engineer & Building Scientist at Design Alaska Inc, along with BAC AAC Member, Charles Pelini AIA (M.Arch '17) Project Architect, Project Associate, HarrisonKornberg Architects, Houston, TX.

2:30 - 3:30 p.m.

From BAC to CEO: Conversation with Anas Al Kassas (M.Arch '17) Founder & CEO, INOVUES, INC.

Join BAC alumnus and entrepreneur Anas Al Kassas (M.Arch '17), who has developed a high-impact cleantech solution to promote a faster transformation into a sustainable future, for a conversation hosted by Len Charney, BAC Special Assistant to the President.

3:30 - 4:30 p.m.

Landscape Technology and Performance Modeling

Jonathan Cave (MLA '17), Landscape Architect at Halvorson, Tighe & Bond Studio, and Chien-Yu Lin (MLA '18), Graduate Assistant & PhD Student at SUNY-ESF, discuss Perspectives of Landscape Design with BAC student, Jay Cadwallader of BAC Makers. This session will be moderated by Margarita Iglesia, BAC Education Director for Curriculum Development and Faculty in Landscape Architecture.

4:30 - 6:00 p.m.

The Evolving Immersive Experience (VR/AR/XR)

This discussion will explore the immersive experience of virtual spaces, moderated by Anthony Frausto-Robledo (B.Arch '96) along with Andrew Keating, Kat Schneider, and Gabe Paez, Founder and CEO of Wild Technology, Inc.

6:00 - 7:00 p.m.

Fresh Ai-R: The Coming Revolution of AI in Robotics and Design

Join Dr. Mahesh Daas, BAC President and ACSA Distinguished Professor, for a discussion on the coming revolution of AI in robotics and design. Based on his recently co-edited book (with Andrew John Wit) Towards A Robotic Architecture and his forthcoming co-authored book, Being Human/Being Robot, a graphic novel on how humans and robots may live together.

7:00 - 8:00 p.m.

Collective Authorship and Virtual Storytelling through Analog and Digital Computation

Featuring Takbir Fatima, architect, educator, and Director of DesignAware, and Peter Atwood, BAC Director of Digital Media & Faculty, the Fractals Workshop is a generative design and computation workshop that learns from logic, geometry, structure, and the growth patterns of natural systems. The discussion will be moderated by Joe Porter (M.Arch '16).

8:00 - 9:00 p.m.

The Emerging Work Place: Interior Architecture Technology

Explore the relevance and development of technological integration in the workplace. Moderated by Denise Rush, BAC Dean of Interior Architecture, featuring Felice Silverman (MIA '92) principal of Silverman Trykowski Associates. Marcus Hamblin (BIA '14), Associate IIDA Associate, Gensler, and Alexandra Haslett (MIA '20) Interior Designer, Isgenuity
Date
June 14, 2021
For More Info
Cost
Free
Categories
Events BAC Talks