Student Story: Molly Boudreau (M.Arch '22)
Discover how Molly Boudreau's love for design led her from the Army to the BAC
---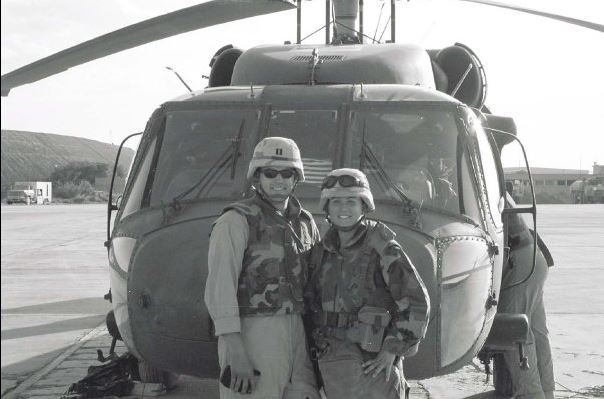 Date Posted
October 27, 2021
For More Info
Categories
NewsCampus and Community
Source
Ashley Abon
When Molly Boudreau was 8 years old she asked for a subscription to Architectural Digest. As she grew older, an ROTC scholarship granted her the opportunity to serve her country as a pilot in the Army, but her love for design never left.
"Even in combat, living in an eight-foot square tent I couldn't fully stand up in, I had the most well-appointed quarters in camp. Mine was the only tent around complete with area rugs, window treatments and a veranda." During a mission in Babylon, she noticed the damage the helicopter's air turbulence was wreaking on the ancient stone walls beneath her as they descended toward land. "It was heartbreaking, but eye-opening at the same time. Here I am facing life and death situations every day and I'm worried about repairing the infrastructure."
As her duty in the Army came to a close, Molly knew she wanted to pursue architecture and design. After receiving her BFA in Interior Architecture & Design from the Academy of Art University and starting a small studio with an architect mentor in the Boston/Cape Cod area, she decided it was time to pursue her life-long goal of becoming a licensed architect.
Molly was familiar with the BAC and knew the flexibility of the Online Master of Architecture program would be the perfect fit for her schedule. "The courses are challenging and the workload takes quite a bit of focus to manage, but military folks are inherently dedicated to a cause—this time it's for you!" Molly credits her approach to design from the technical training she had as a helicopter pilot coupled with the leadership training and mentorship she garnered as an officer in the Army.
"My classmates have been one of the best parts of my experience at the BAC. Each of us is coming from such diverse backgrounds, engaged in a wide array of work-life scenarios, it helps to foster a really creative environment with so many different perspectives. I've made connections with classmates that I am certain I will maintain as we venture out into our equally diverse careers."
In addition to being a wife, veteran, mother of two, business owner, and mentor to young designers, Molly will now soon be able to add licensed architect to her list of accomplishments.
"I am so grateful that the BAC was an option for me to use my GI Bill. During the height of the pandemic and economic shut-down, I wasn't certain I'd be able to find the funds to continue my curriculum. It was a serendipitous turn of events that I was able to find some additional financial aid to keep the momentum going. I have since found a wonderful job, due in part to the projects I've been able to add to my portfolio from my studio courses at the BAC. I've always been an advocate for service members to utilize the programs provided to follow their post-military dreams. I hope that those who aspire to contribute to the architectural field would consider the BAC as a viable and exciting route to reach their objective. Veterans bring a dynamic wealth of knowledge and experience; another perspective to the creative process that adds to the richness of the education we all receive here."
Date Posted
October 27, 2021
For More Info
Categories
NewsCampus and Community
Source
Ashley Abon